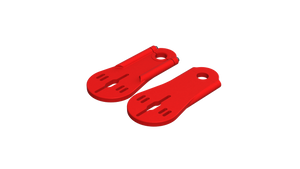 Product Description
Each kit includes 2 motor mounts.

Designed to mount most motors and pulleys to Juma Skate Type 300 Trucks.

Now includes high-torque adapter (not shown)!

Aerospace grade aluminum construction.

Slotted mount openings for simple belt tensioning.

We're happy to help with belt selection!  Belts can be purchased at: vbeltguys.com, evolvesakteboardusa.com, diyelectricskateboard.com, or mboards.co.
Technical Specs
Minimum recommended wheel size is 150mm for Type 300 Motor Mounts.

Compatible with both motor mount standards: 30mm and 44mm bolt patterns

Accepts up to 10mm diameter motor output shafts.

Designed to handle 10Nm+ motors.

Compatible with 13-20T motor pulleys and 32-72T wheel pulleys.

89.3mm axle to motor shaft center-to-center dimension.
Type 300 Front Truck Motor Mounts
Price: Sale price Price $45.00 Regular price $50.00
Note: All items are now in stock, and ship out within 1-2 business days!