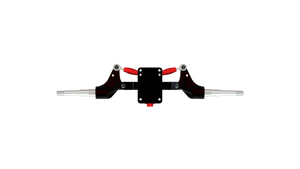 Product Description
Reduced steering rack ratio for improved control.

Specifically designed to enhance agility and high speed stability for ESK8 setups.
Provides excellent precision and grip for all board types.

Pairs with Type 400 rear truck

.

Comes with one truck, including axles, and wheel/pulley spacers. (Requires 14mm wrench and Loctite for axle assembly.)

Additional axles can be bought separately.  Compatible with most wheels and pulleys; contact us for custom designs.

Bearings, wheels, and deck are not included.
Features tunable steering weight mechanism. Includes 3 different spring-rate plugs.
Technical Specs
Axle width:
Trampa (16.3")

Metroboard (17.8")

MBS / LaCroix / XCell (16.5")

ESK8 Urethane (ABEC, Cloud, Kegel) (16.0")

Hoyt - 8mm (15.5")

Downhill Urethane - 8mm (13.0")

All axles are motor mount capable.

Hanger width (260mm).

Axle length varies by selection.  All axle options include length for motor mount and necessary spacers.

Axle diameter varies by selection.  Compatible with stated brand wheel and pulleys.

Board clearance, typically achieved with ½" riser, or less.  Caster Block highly recommended; aides board clearance and improves high-speed stability.

Weight (810g, Typical). Exact weight depends on axle selection.

Settable toe angle (+/- 3.0 degrees).
Type 300 Front Truck
Price: Sale price Price $249.00 Regular price $299.00
Note: All items are now in stock, and ship out within 1-2 business days!